CAMT Industry Partners Preview Future Home of New Demonstration Facility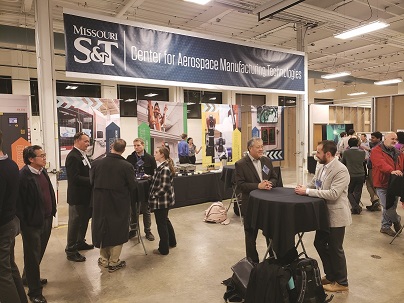 The Center for Aerospace Manufacturing Technologies (CAMT) held its Fall Industry Advisory Board Meeting at Missouri S&T on November 27-28, 2018. Welcoming representatives from consortium member companies, including Boeing, GKN Aerospace, Spirit Aerosystems, DMG Mori, Toyota, LMI Aerospace, Automated Precision, Steelville Manufacturing, and Product Innovation, who were in store for two days of announcements, presentations, tours, and networking.
The meeting was opened with welcoming remarks by Dr. Richard Wlezien, Dean of the College of Engineering and Computing, who announced that the college had located a 6,000 sq. ft. high bay space and $1.4M to begin renovation for CAMT to house its Manufacturing Demonstration and Research Facility. The facility will house industrial-grade manufacturing equipment including several additive manufacturing (3D printing) machines (Renishaw AM250, Stratasys Fortus 400, Optomec LENS LPE), supporting equipment for additive manufacturing pre- and post-processing and characterization, its incremental sheet forming robot, and additional machines arriving from industry partners. The Industry Advisory Board reviewed project presentations by faculty and students from its 2018 project portfolio and project proposals for its 2019 portfolio. Industry members also had a chance to tour the pre-renovation facility and explore projects in more detail during a graduate student poster session held in the new space.
Founded in 2004, the Center for Aerospace Manufacturing Technologies (CAMT), led by director Dr. Douglas Bristow, is a premier center for aerospace manufacturing research that operates through university-industry partnership. Its mission is to serve as a national center of excellence to research, develop, evaluate and demonstrate methodologies and tools for rapid and cost-effective manufacturing of aerospace products and to educate the evolving aerospace manufacturing workforce, resulting in significant technological advancement and economic impact.